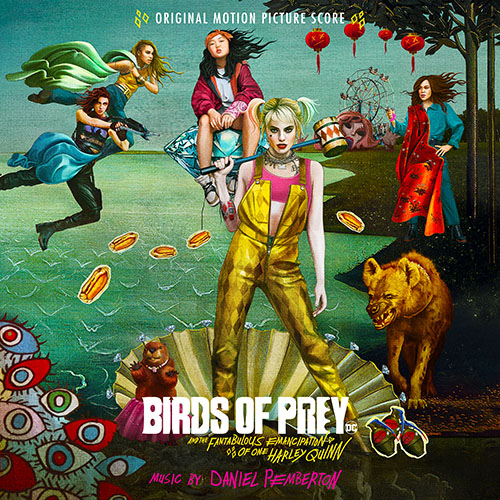 Birds of Prey: And the Fantabulous Emancipation of One Harley Quinn (Original Motion Picture Score)
Release Date: 14/02/2020
STREAM / BUY
1 Flying High (Birds of Prey) - Daniel Pemberton
2 The Fantabulous Emancipation Explosion - Daniel Pemberton
3 Harley Quinn (Danger Danger) - Daniel Pemberton
4 Birds of Prey - Daniel Pemberton
5 Harley Gogo Agogo - Daniel Pemberton
6 The Black Mask Club - Daniel Pemberton
7 Stolen Diamond - Daniel Pemberton
8 Bad Ass Broad (Whistle MF) - Daniel Pemberton
9 Lonely in Gotham - Daniel Pemberton
10 Black Canary Echo - Daniel Pemberton
11 The Bertinelli Massacre (The Huntress Story) - Daniel Pemberton
12 Bump It! - Daniel Pemberton
13 Roman Sionis - Daniel Pemberton
14 Lockdown - Daniel Pemberton
15 Bruce and the Beaver - Daniel Pemberton
16 Lotus Flower - Daniel Pemberton
17 Femme Fatale - Daniel Pemberton
18 Breakout! - Daniel Pemberton
19 The Bertinelli Revenge - Daniel Pemberton
20 I Want To Kill You Because I Can - Daniel Pemberton
21 Zsasz Showdown - Daniel Pemberton
22 Work Together - Daniel Pemberton
23 Battle Commence - Daniel Pemberton
24 Fight Together (Birds Of Prey) - Daniel Pemberton
25 Founders Pier - Daniel Pemberton
26 Roller Vs Rollers - Daniel Pemberton
27 The Fantabulous Emancipation of One Harley Quinn - Daniel Pemberton
Birds of Prey – Score – Credits
Music by DANIEL PEMBERTON
Score Produced by DANIEL PEMBERTON
Executive Album Producers: MARGOT ROBBIE
CATHY YAN
SUE KROLL
BRYAN UNKELESS
Executives in Charge of Music for Warner Bros. Pictures: DARREN HIGMAN and NIKI SHERROD
Executive in Charge of WaterTower Music: JASON LINN
Music Supervisors: SEASON KENT and GABEL HILFER
LEGAL LINE:
(P) 2020 This compilation WaterTower Music as licensee for Warner Bros. Entertainment Inc.
Motion Picture Artwork & Photography © 2020 Warner Bros. Entertainment Inc.
All rights reserved.
Published by: Warner-Olive Music LLC (ASCAP)
TRACKLIST
1. Flying High (Birds of Prey)
2. The Fantabulous Emancipation Explosion
3. Harley Quinn (Danger Danger)
4. Birds of Prey
5. Harley Gogo Agogo
6. The Black Mask Club
7. Stolen Diamond
8. Bad Ass Broad (Whistle MF)
9. Lonely in Gotham
10. Black Canary Echo
11. The Bertinelli Massacre (The Huntress Story)
12. Bump It!
13. Roman Sionis
14. Lockdown
15. Bruce and the Beaver
16. Lotus Flower
17. Femme Fatale
18. Breakout!
19. The Bertinelli Revenge
20. I Want To Kill You Because I Can
21. Zsasz Showdown
22. Work Together
23. Battle Commence
24. Fight Together (Birds Of Prey)
25. Founders Pier
26. Roller Vs Rollers
27. The Fantabulous Emancipation of One Harley Quinn
Music Composed and Produced by DANIEL PEMBERTON
Recorded and Mixed by Sam Okell
Recorded at SUNSET SOUND
HENSON RECORDING STUDIOS
NEWMAN SCORING STAGE; LOS ANGELES
Mixed at CAPITOL STUDIOS AND HENSON RECORDING STUDIOS; LOS ANGELES
Pro-Tools Operator: JEFF GARTENBAUM
Engineers: BRIAN RAJARATNAM
ZACH ZAJDEL
ERIN RETTIG
Music Editor: KATRINA SCHILLER
Assistant Music Editor: STEPHEN PERONE
Orchestrator: ANDREW SKEET
Additional Orchestration: JORDAN COX
Music Preparation: ED TRYBEK
Orchestral Contractor: PETER ROTTER
Choir Contracted and Conducted by JASPER RANDALL
Roland 303 Programming: BRIAN DOUGANS
Sample Design: ALEX GRUZ
Album Mastered by CHRISTIAN WRIGHT at Abbey Road Studios
Score Produced by DANIEL PEMBERTON
Executive Album Producers: MARGOT ROBBIE
CATHY YAN
SUE KROLL
BRYAN UNKELESS
Executives in Charge of Music for Warner Bros. Pictures: DARREN HIGMAN and NIKI SHERROD
Executive in Charge of WaterTower Music: JASON LINN
Music Supervisors: SEASON KENT and GABEL HILFER
Music Business Affairs Executive: RAY GONZALEZ
Art Direction: SANDEEP SRIRAM
Soundtrack Coordinators: KARI MIAZEK and LINDA CHRISTIE
Daniel Pemberton would like to thank: firstly the amazing Sam Okell for literally coming on a very long journey with me and tirelessly making use of the finest swimming pools at the many hotels we stayed at – whilst still managing to put together a pretty mental soundtrack as well; all the fantastic musicians I got to work with in LA and the studio crews out there; Peter Rotter
Hillary Hernandez
Jasper Randall and the rest of the contracting team who did such a wonderful job at looking after us; Evan Shiff and Katrina Schiller for the tireless nonstop work you both did; the wonderful Warner Bros. music family – Niki Sherrod
Darren Higman
Linda Christie
Kari Miazek and Paul Broucek – another crazy ride!; super music supervisors Season Kent and Gabe Hilfer for always pushing for what is best for the film; our own superhero producer crew getting busy in Harley's kitchen – Sue Kroll
Bryan Unkeless
Walter Hamada
Galen Vaisman and Margot Robbie; Jeff Gartenbaum and Brian Rajaratnam for their solidity in the face of my nonsense; Imad-Roy El-Amine for co-writing some great stuff together that you'll have to buy a different album to hear; one of the all-time 303 legends Brian Dougans for giving me some of that sweet acid; Alex Gruz for all the non-stop stemming; James Herbert for some UK special ops unit style stuff; Jucee Froot and Chris Carter; Leo Abrahams; Robert Messinger and all at Fortress; Catherine Grieves; Pemberton Family; Andrew Skeet; Atlantic Records crew; Jason
Sandeep
Joe
Rocco and the entire WaterTower team; and lastly a huge thanks to the wonderful Cathy Yan who created such a vibrant and exciting cinematic world for me to play in.
Thanks to:
Peter Axelrad
 Rocco Carrozza
Vincenzo De La Rosa
 Kerrylyn Genetive
  Joe Kara
Kevin Kertes
Katie Lambert
Genevieve Morris
Amanda Stimac
Robert Zick   
LINER NOTES:
One of the best things about writing this score was the fact I felt Harley Quinn as a character would be into anything – I can see her listening to whatever she wants: opera
metal
hip-hop
EDM
rockabilly
gospel
pop. I always felt she didn't really care for one thing – she'd absorb them all and not give a f*** if anyone thought it was cool or not. So
I felt I'd do that with the music. In the same way she dresses like no one else
pulling disparate styles together to make something her own
I wanted to do the same with the score. Then couple that with a crew of other great larger-than-life characters and the completely unique take on Gotham that director Cathy Yan has created
a world with a kaleidoscopically colorful palate
you have something very special to inspire you.
For this film I decamped to Los Angeles with my brilliant mixer Sam Okell. My first real time recording there
it was an absolute blast. I got to wear shorts a lot AND we got to work with some phenomenal musicians in some of the world's most legendary studios. Amazing. This album is the result of that journey. Like Harley's narration in the film sometimes it's chronologically suspect. There's tracks you won't ever have heard – the results of early experiments or lost fights against pop goliaths – and others I've tweaked to make a better listen on their own. Cathy always said to me about the film "this is a side to Gotham you haven't seen before" – I hope this is also a side you haven't heard either…
Daniel Pemberton
London 2020.
AFM Musician
The Hollywood Studio Symphony
VIOLIN
Alyssa Park — CM
Tereza Stanislav — P2
Amy Hershberger
Andrew Bulbrook
Benjamin Powell
Bruce Dukov
Darius Campo
Eun-Mee Ahn
Irina Voloshina
Josefina Vergara
Kevin Kumar
Max Karmazyn
Natalie Leggett
Roger Wilkie
Sara Parkins
Songa Lee
Stephanie Matthews
Tamara Hatwan
VIOLA
Robert A. Brophy — 1st
Corinne Sobolewski
David Walther
Leah Katz
Morgan O'Shaughnessey
Shawn Mann
CELLO
Steve Erdody — 1st
Armen Ksajikian
Erika Duke-Kirkpatrick
Jacob Braun
Paula Hochhalter
Ross Gasworth
CONTRABASS
Michael Valerio — 1st
Edward Meares
Stephen Dress

ETHNIC FLUTE
Chris Bleth
SAXOPHONE
Daniel Higgins — 1st
Eric Marienthal
Joel Peskin
TRUMPET
Wayne Bergeron
TROMBONE
William Reichenbach
HARP
Lara Somogyi
GUITAR
Adam Tressler
Andrew Synowiec
George Doering
Timothy Young
BASS GUITAR
Leland Sklar — 1st
Timothy Lefebvre
PERCUSSION
Brian Kilgore — 1st
Wade Culbreath
Edward Atkatz
DRUM SET
Abe Rounds
KEYBOARD
Zachary Rae
CHOIR
FEATURED SOLOISTS
Sarah Pinzon
Anna Schubert
Suzanne Waters
SOPRANO
Amanda Achen
Monika Beal
Erin Bentlage
Allie Feder
Kelci Hahn
Ayana Haviv
Amy Keys
Andrea Zomorodian
ALTO
Adryon De Leon
Katharine Eames
Jessica Freedman
Wendy Hinkle
Laura Jackman
Sara Mann
Jessica Rotter
Ann Marie Sheridan
Raya Yarbrough
TENOR
David Loucks
Greg Whipple
Gerald White
BASS
James Hayden
Jamal Moore
Tracy LJ Robertson