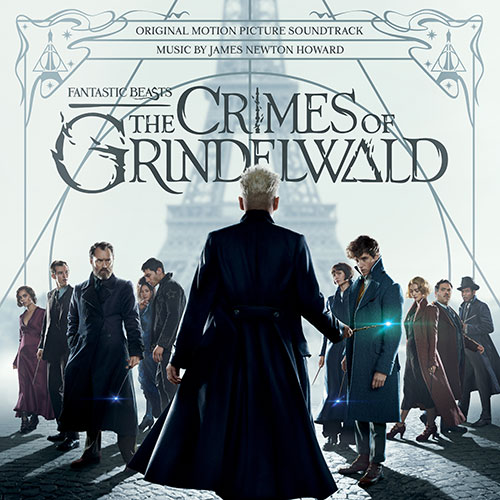 Fantastic Beasts: The Crimes Of Grindelwald (Original Motion Picture Soundtrack)
Release Date: 09/11/2018
STREAM / BUY
1 The Thestral Chase - James Newton Howard
2 Newt and Leta - James Newton Howard
3 Dumbledore - James Newton Howard
4 The Kelpie - James Newton Howard
5 Newt and Jacob Pack for Paris - James Newton Howard
6 Nagini - James Newton Howard
7 Newt Tracks Tina - James Newton Howard
8 Queenie Searches for Jacob - James Newton Howard
9 Irma and the Obscurus - James Newton Howard
10 Blood Pact - James Newton Howard
11 Capturing the Zouwu - James Newton Howard
12 Traveling to Hogwarts - James Newton Howard
13 Leta's Flashback - James Newton Howard
14 Salamander Eyes - James Newton Howard
15 Matagots - James Newton Howard
16 Your Story is Our Story - James Newton Howard
17 Leta's Confession - James Newton Howard
18 Vision of War - James Newton Howard
19 Spread the Word - James Newton Howard
20 Wands into the Earth - James Newton Howard
21 Restoring Your Name - James Newton Howard
22 Fantastic Beasts: The Crimes of Grindelwald - James Newton Howard
23 Dumbledore's Theme (Solo Piano) - James Newton Howard
24 Fantastic Beasts Theme (Solo Piano) - James Newton Howard
25 Leta's Theme (Solo Piano) - James Newton Howard
FRONT COVER:
Music by JAMES NEWTON HOWARD
BACK COVER:
Album Produced by JAMES NEWTON HOWARD and XANDER RODZINSKI
Co-Produced by JIM WEIDMAN
Executive Album Producers: DAVID HEYMAN and DAVID YATES
Executives In Charge Of Music For Warner Bros. Pictures: PAUL BROUCEK and KAREN ELLIOTT
Executive In Charge Of WaterTower Music: JASON LINN
INSIDE CREDITS:
Music by JAMES NEWTON HOWARD
Album Produced by: JAMES NEWTON HOWARD and XANDER RODZINSKI
Co-Produced by: JIM WEIDMAN
Score Recorded by: Shawn Murphy
Score Mixed by: PETER COBBIN and KIRSTY WHALLEY
Album Mastered by: DAVE COLLINS
Supervising Music Editor: JIM WEIDMAN
Music Editors: ALLAN JENKINS
DAVID OLSON
Technical Scoring Engineers: XANDER RODZINSKI
TYLER DURHAM
CHRIS COZENS
Orchestra and Choir conducted by: PETE ANTHONY
Orchestrations: PETE ANTHONY
JEFF ATMAJIAN
JON KULL
PHILIP KLEIN
JOHN ASHTON THOMAS
PETER BOYER
Music Supervisor: KAREN ELLIOTT
Score Coordinator: PAMELA SOLLIE
Music Librarian: MARK GRAHAM
Music Preparation by: JOANN KANE MUSIC SERVICE
Orchestra Leader: THOMAS BOWES
Solo Vocalist: ISOBEL ANTHONY
Choir: LONDON VOICES
Choirmasters: TERRY EDWARDS
Boys' Choir: TRINITY BOYS SCHOOL
CROYDON
Boys' Choirmaster: DAVID SWINSON
Orchestra Contractor: SUSIE GILLIS FOR ISOBEL GRIFFITHS LTD.
Pro Tools Operator: JOHN BARRETT
Score Editor: CÉCILE TOURNESAC
Scoring Crew: STEFANO CIVETTA
DANIEL HAYDEN
Intern for James Newton Howard: COLIN TROUGHTON
Score Recorded at: ABBEY ROAD STUDIOS
LONDON
Score Mixed at: SWEET THUNDER STUDIOS
LONDON
Executive Album Producers: DAVID HEYMAN and DAVID YATES
Executives In Charge Of Music For Warner Bros. Pictures: PAUL BROUCEK and KAREN ELLIOTT
Executive In Charge Of WaterTower Music: JASON LINN
Art Direction: SANDEEP SRIRAM
Album Business Affairs: LISA MARGOLIS
Abbey Road Photography by: BENJAMIN EALOVEGA
Music Published by: WARNER-BARHAM MUSIC LLC (BMI)
Track 1 contains "Hedwig's Theme" Written by John Williams
Not credited in art but splits provided by JNH's team for metadata and publishing:
Track 8 composed by James Newton Howard and Alexander Stover Rodzinski
JAMES NEWTON HOWARD WOULD LIKE TO THANK:
David Yates
J.K. Rowling
Tim Lewis
David Heyman
Paul Broucek
Karen Elliott
Fiona Gillott
Oz Iqbal
Tori Sunnucks
Doreen Dunkley
David Fernandez
Dee Hanrahan and everyone at the Abbey Road Canteen
Sam Schwartz
Michael Gorfaine
Annica Howard
Anouk Ackerman
Jackson & Hayden Howard
THANKS TO:
Peter Axelrad
Jill Benscoter
Rocco Carrozza
Ray Gonzalez
Joe Kara
Kevin Kertes
Kolette Kleber
Ny Lee
Genevieve Morris
Ari Taitz
Robert Zick
LEGAL LINE:
(P) 2018WaterTower Music.
Motion Picture Artwork © 2018 Warner Bros. Entertainment Inc.
Motion Picture Photography © 2018 Warner Bros. Entertainment Inc.
All rights reserved.
TRACKLIST:
1 The Thestral Chase*8:05
2 Newt and Leta 2:31
3 Dumbledore 2:12
4 The Kelpie 1:34
5 Newt and Jacob Pack for Paris 2:28
6 Nagini 4:15
7 Newt Tracks Tina 2:27
8 Queenie Searches for Jacob 1:36
9 Irma and the Obscurus 2:56
10 Blood Pact 2:28
11 Capturing the Zouwu 1:33
12 Traveling to Hogwarts 1:07
13 Leta's Flashback 4:39
14 Salamander Eyes 2:40
15 Matagots 2:16
16 Your Story is Our Story 3:22
17 Leta's Confession 5:16
18 Vision of War 3:50
19 Spread the Word 4:03
20 Wands into the Earth 4:09
21 Restoring Your Name 6:20
22 Fantastic Beasts: The Crimes of Grindelwald 2:41
23 Dumbledore's Theme (Solo Piano)1:27
24 Fantastic Beasts Theme (Solo Piano)1:37
25 Leta's Theme (Solo Piano)2:05
Total:77:37
* Track 1 contains "Hedwig's Theme" written by John Williams
MEMBERS OF THE ORCHESTRA:

VIOLINS:
Thomas Bowes
Jackie Hartley
Fenella Barton
Mark Berrow
John Bradbury
Ben Buckton
Martin Burgess
Harriet Davies
Jonathan Evans-Jones
Roger Garland
Jenny Godson
Kathy Gowers
Peter Hanson
Philippe Honoré
Philippa Ibbotson
Magnus Johnston
Thomas Kemp
Patrick Kiernan
Gaby Lester
Dorina Markoff
Lorraine McAslan
John Mills
Perry Montague-Mason
Steve Morris
Kathryn Parry
Tom Pigott-Smith
Debbie Preece
Emlyn Singleton
Sonia Slany
Julian Tear
Cathy Thompson
Clare Thompson
Debbie Widdup
Paul Willey
VIOLAS:
Peter Lale
Vicci Wardman
Rachel Bolt
Cathy Bradshaw
Judith Busbridge
Rebecca Carrington
Paul Cassidy
Reiad Chibah
Richard Cookson
Sue Dench
Clare Finnimore
Clive Howard
Martin Humbey
Julia Knight
Lydia Lowndes-Northcott
Kate Musker
Andy Parker
Ian Rathbone
Simone Van Der Giessen
Jake Walker
Fiona Winning
CELLI:
Tim Gill
Nick Cooper
Caroline Dearnley
Katherine Jenkinson
Paul Kegg
Joely Koos
Tony Lewis
Vicky Matthews
Frank Schaefer
Jacky Thomas
Bozidar Vukotic
Jonathan Williams
Chris Worsey
BASSES:
Mary Scully
Roger Linley
Steve Mair
Laurence Ungless
Allen Walley
Steve Williams
FLUTES:
Karen Jones
Nina Robertson
Siobhan Grealy
OBOE/COR ANGALIS:
John Anderson
Janey Miller
Jane Marshall
CLARINET/BASS CLARINET:
Nick Rodwell
Duncan Ashby
Anthony Pike
David Fuest
BASSOON/CONTRABASSOON:
Gavin McNaughton
Richard Skinner
Rachel Simms
HORNS:
Nigel Black
Richard Watkins
Michael Thompson
Laurence Davies
Nicholas Korth
Martin Owen
Phillip Eastop
Richard Berry
TRUMPETS:
Alistair Mackie
Jason Evans
Kate Moore
Robin Totterdell
Catherine Knight
TROMBONES:
Mark Nightingale
Richard Edwards
Ed Tarrant
Andy Wood
TUBA:
Owen Slade
Adrian Miotti
PERCUSSION:
Frank Ricotti
Gary Kettel
Paul Clarvis
Chris Baron
TIMPANI:
Bill Lockhart
HARP:
Skaila Kanga
Helen Tunstall
Elizabeth Bass
Camilla Pay
PIANO/CELESTE:
Simon Chamberlain

ACCORDION:
Eddie Hession
MEMBERS OF CONSORT:
FIDDLE: Sonia Slany. Pavlo Beznosiuk
VIOLA DE GAMBA: Nick Cooper
BAROQUE CELLO: Richard Tunnicliffe

MEMBERS OF LONDON VOICES:
SOPRANOS:
Lizzie Adams
Sara Brimer Davey
Grace Davidson
Emily Dickens
Sarah Eyden
Joanna Goldsmith-Eteson
Katy Hill
Emilia Morton
Philippa Murray
Laura Oldfield
ALTOS:
Deryn Edwards
Eleanor Harries Clark
Vanessa Heine
Freya Jacklin
Amy Lyddon
Martha McClorinan
Lucy Potterton
Clara Sanabras
Melanie Sanders
Katie Schofield
TENORS:
Ben Alden
Garth Bardsley
Andrew Busher
Peter Davoren
Richard Edgar-Wilson
Richard Eteson
Peter Harris
Simon Haynes
Benedict Quirke
Thomas Robson
Julian Alexander Smith
BASSES:
Nick Ashby
Ben Bevan
Tom Bullard
Nicholas Garrett
Edward Grint
Jimmy Holliday
Timothy Murphy
Christopher J. Neale
Nigel Short
Peter Snipp
Christopher Webb
Mark Williams
MEMBERS OF TRINITY BOYS' CHOIR:
Felix Barry-Casademunt
Caspar Burman
Joseph Cassidy
Alexander Chan
Harry Daykin
Aman de Silva
Joel Edser
Freddie Jemison
Leo Jemison
Lucas Rebato
Gabriel Southcombe
Ethan Thorne
Edward Warner
Tom Willmer
Simeon Wren