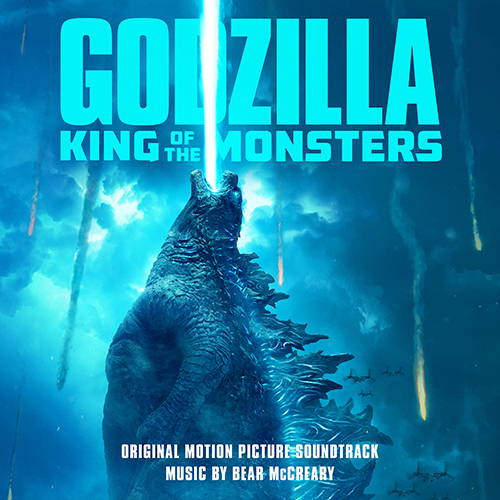 Godzilla: King of the Monsters (Original Motion Picture Soundtrack)
Release Date: 24/05/2019
STREAM / BUY
1 Godzilla (feat. Serj Tankian) - Bear McCreary
2 Godzilla Main Title - Bear McCreary
3 Memories of San Francisco - Bear McCreary
4 The Larva - Bear McCreary
5 Welcome to Monarch - Bear McCreary
6 Outpost 32 - Bear McCreary
7 Ice Breaker - Bear McCreary
8 Rise of Ghidorah - Bear McCreary
9 Old Rivals - Bear McCreary
10 The First Gods - Bear McCreary
11 Rodan - Bear McCreary
12 A Mass Awakening - Bear McCreary
13 The One Who is Many - Bear McCreary
14 Queen of the Monsters - Bear McCreary
15 For Andrew - Bear McCreary
16 Stealing the Orca - Bear McCreary
17 The Hollow Earth - Bear McCreary
18 The Key to Coexistence - Bear McCreary
19 Goodbye Old Friend - Bear McCreary
20 Rebirth - Bear McCreary
21 Fog Over Fenway - Bear McCreary
22 Battle in Boston - Bear McCreary
23 Redemption - Bear McCreary
24 King of the Monsters - Bear McCreary
25 Ghidorah Theme - Bear McCreary
26 Mothra's Song - Bear McCreary
Listen to Godzilla by:
Serj Tankian & Bear McCreary
Godzilla: King of the Monsters – Sdtk Credits
Music by BEAR MCCREARY
Soundtrack Album Produced by:
JOE AUGUSTINE and BEAR MCCREARY
Executive Album Producers:
MICHAEL DOUGHERTY
PETER AFTERMAN and MARGARET YEN
Executive In Charge Of Music for Warner Bros. Pictures:
PAUL BROUCEK
Executive In Charge Of WaterTower Music:
JASON LINN
LEGAL LINE:
(P) 2019 Legendary. Motion Picture Artwork
© 2019 Warner Bros. Entertainment Inc. Motion Picture Photography
© 2019 Warner Bros. Entertainment Inc. and Legendary Pictures Funding
LLC. All rights reserved.
Album Produced by:
JOE AUGUSTINE & BEAR MCCREARY
Score Produced by:
BEAR MCCREARY
Recorded by:
SIMON RHODES
CASEY STONE
JONNY SOLWAY
Mixed by:
GREG HAYES
Conducted by:
BEAR MCCREARY
Orchestrated by:
EDWARD TRYBEK
HENRI WILKINSON
JONATHAN BEARD
Scoring Coordinator:
KAIYUN WONG
Scoring Assistants:
JASON AKERS
SAM EWING
ANDREW HARRIS
Tech Assistants:
COOPER FUQUA
JESSE HARTOV
DAVID MATICS
Assistants to the Composer:
MARISA GUNZENHAUSER
ANGELINA PARK
Assistant Orchestrators:
JAMIE THIERMAN
BENJAMIN HOFF
JORDAN COX
JEFF TINSLEY
DAVID VOLPE
Associate Music Supervisor:
ALISON LITTON
Music Coordinator:
JANE BERRY
Music Editors:
MICHAEL BABER
DANIEL WALDMAN
Music Preparation:
JILL STREATER
Orchestra Contractors:
SUSIE GILLIS and LUCY WHALLEY for Isobel Griffiths Ltd.
Choir:
LONDON VOICES
Chorus Masters:
TERRY EDWARDS and BEN PARRY
Japanese Music Consultant:
DOCTOR OSAMU KITAJIMA
Buddhist Chants Consultant:
REV. NORIAKI ITO
Kakegoe Coordinator:
HIROMITSU NISHIKAWA
Babylonian Consultant:
MARTIN WORTHINGTON
Studios:
AIR STUDIOS. London
England
DEAN ST. STUDIOS. London
England
HEAVEN RECORDING STUDIO. Hong Kong
China
Mastered by:
PAT SULLIVAN at Bernie Grundman Mastering
Los Angeles
CA
Representation:
KRAFT-ENGEL MANAGEMENT
Executive Album Producers:
MICHAEL DOUGHERTY
PETER AFTERMAN and MARGARET YEN
Executive In Charge Of Music for Warner Bros. Pictures:
PAUL BROUCEK
Executive In Charge Of WaterTower Music:
JASON LINN
Art Direction:
SANDEEP SRIRAM
Album Business Affairs:
ARI TAITZ and CHRISTINE BERGREN
This album is dedicated to AKIRA IFUKUBE
the composer who taught us that music can roar.
SPECIAL THANKS:
The composer would like to thank director Michael Dougherty for his creative leadership. Thanks are also due to Mary Parent
Alex Garcia and everyone at Legendary Pictures
as well as everyone at Warner Bros. This score could not have been completed without the contributions of Peter Afterman
Margaret Yen
and all the talented musicians who invested their time and talent. Bear would also like to thank all his friends and family for their support during the recording of this score
especially Raya Yarbrough and Sonatine McCreary.
THANKS TO:
Peter Axelrad
Rocco Carrozza
Vincenzo De La Rosa
Kerrylyn Genetive
Ray Gonzalez
Joe Kara
Kevin Kertes
Ny Lee
Katie Lambert
Genevieve Morris
Robert Zick
All compositions by Bear McCreary (ASCAP)
Published by (c) 2019 Warner-Olive Music LLC (ASCAP)
except:
"Godzilla (feat. Serj Tankian)"
Written by Donald Roeser
Published by SonyATV Tunes LLC (ASCAP)
Produced and Arranged by Bear McCreary
Additional Production & Mixing by Jason LaRocca
Performed by Bear McCreary
Guitars: Brendon Small
Bass: Bryan Beller
Drums: Gene Hoglan
Backing Vocals: Brendan McKian
(P) 2019 Legendary
"Mothra's Song"
Written by Yuji Koseki
Published by Toho Music Corp.
Williamson Music (ASCAP)
"Godzilla Main Title"
Written by Akira Ifukube
Published by Toho Music Corp.
Williamson Music (ASCAP)
FEATURED PERFORMERS
Yayli Tanbur:
Michalis Cholevas
Ethnic Woodwinds:
Jan Hendrickse
Wan Pin Chu
Solo Cello:
Caroline Dale
Percussion:
Chris Baron
Rob Farrer
Frank Ricotti
Damien Manning
VOICES
Kakegoe Performers:
Tomoro Chigono
Yuichiro Furusato
Hidemasa Hanahara
Kiyomasa Hanahara
Takahiko Hirano
Masaya Hoshizaki
Shinnosuke Ichikawa
Kenjiro Ishida
Yuni Katagiri
Yasunori Kawakami
Kazumasa Katarao
Takanori Masaki
Shohei Nishimura
Kazuki Ogi
Masashi Oomura
Ayato Saito
Hidetsugu Sato
Yasunori Sato
Shonosuke Shimazaki
Tadashi Sugitani
Senri Tai
Kouya Tamiya
Ryuji Tomono
Shigeto Tanabe
Yoshihito Ueno
Buddhist Chants:
Rev. Ryuta Furumoto
Rev. Noriaki Ito
Rev. Shumyo Kojima
Rev. Kazuaki Nakata

London Choir:
Choirmasters: Terry Edwards
Ben Parry
Ben Alden
Catherine Backhouse
Garth Bardsley
Jacqueline Barron
Ben Bevan
Tom Bullard
Andrew Busher
Catherine Carter
Guy Cutting
Tamsin Dalley
Grace Davidson
Michael Dore
Elizabeth Drury
Richard Edgar-Wilson
Deryn Edwards
Cheryl Enever
John Evanson
Sarah Eyden
Caroline Fitzgerald
Lucy Goddard
Alice Gribbin
Natalie Clifton Griffiths
Peter Harris
Vanessa Heine
Katy Hill
Gavin Horsley
Oliver Hunt
Benedict Hymas
Jo Marshall
Timothy Murphy
Philippa Murray
Judy Rees
Melanie Sanders
Katie Schofield
Julian Alexander Smith
Gareth Treseder
Andrew Walters
Lawrence White
Mark Williams
Amy Wood
ORCHESTRAL PERFORMERS

FLUTES:
Paul Edmund-Davies
Nina Robertson
OBOE/ENGLISH HORN:
David Thomas
CLARINETS:
Jon Carnac
Anthony Pike
BASSOONS:
Gavin McNaughton
Rachel Simms
HORNS:
Laurence Davies
Corinne Bailey
Richard Berry
Roger Montgomery
Simon Rayner
Laurence Rogers
John Ryan
John Thurgood
Phil Woods
TRUMPETS:
Andrew Crowley
Christian Barraclough
James Fountain
Catherine Knight
Kate Moore
Dan Newell
TROMBONES:
Dudley Bright
Roger Argente
Tracy Holloway
Lindsay Shilling
Amos Miller
Ed Tarrant
Dan West
TUBAS:
Peter Smith
Adrian Miotti
HARPS:
Hugh Webb
Camilla Pay
VIOLINS:
Everton Nelson (Concertmaster)
Daniel Bhattacharya
Thomas Bowes
Sue Briscoe
Charlie Brown
Morven Bryce
Martin Burgess
Miranda Dale
Harriet Davies
Shlomy Dobrinsky
Dai Emanuel
Christina Emanuel
Jonathan Evans-Jones
Roger Garland
Clio Gould
Clare Hayes
Marianne Haynes
Alison Kelly
Rick Koster
Pauline Lowbury
Dorina Markoff
Ciaran McCabe
Odile Ollagnon
Jenny Sacha
Sonia Slany
Julian Tear
Matt Ward
Rose Warren-Green
Dave Williams
Warren Zielinski
VIOLAS:
Peter Lale
Cathy Bradshaw
Judith Busbridge
Paul Cassidy
Reiad Chibah
Phil D'Arcy
Sue Dench
Clive Howard
Helen Kamminga
Julia Knight
Kate Musker
Jake Walker
VIOLONCELLI:
Nick Cooper
Dave Daniels
Sophie Harris
Paul Kegg
Tony Lewis
Martin Loveday
Will Schofield
Jacky Thomas
CONTRABASSES:
Mary Scully
Roger Linley
Steve Mair
Andy Pask
Markus Van Horn
Allen Walley
Steve Williams
LINER NOTES:
'Monster Opera' is not a genre I had heard of before. However
when director Michael Dougherty used it in our first creative discussion about the score to Godzilla: King of the Monsters
I fully grasped how important music would be to this film. This term would influence our work through the entire process
shifting even the very language we used to discuss it. The climax of the first battle between Godzilla and Ghidorah was not the end of a 'scene'. Now
it was the fanfare before 'the curtain drops for intermission'. I realized from the beginning that I could not focus on simply scoring a film. I was writing an opera!
An essential component of any opera
especially a 'monster' one
are voices. Here
I strove to give every character a unique sound. For Godzilla
I used the heroic guttural vocalizations of a Tokyo-based taiko ensemble
performing not with their drums
but instead providing traditional kakegoe with their voices. For Ghidorah
I recorded the hypnotic tones of Japanese Buddhist monks chanting in a variety of styles
which I then mashed together to form unique phrases. Mothra's Song features ethereal female choir singing in two harmonized lines. Rodan's musical voice was achieved by pushing the orchestral French horns to 'scream' in fast
ripping roars up to their top register
both emulating and supporting the massive creature's piercing calls.
Themes were as important to the score as the voices performing them. For Godzilla
I chose to incorporate and adapt the legendary Akira Ifukube's iconic theme
and for Mothra
Yuji Koseki's immortal "Mothra's Song"
both being classic themes from the franchise's origins. Filtering them through my own sensibilities
I hoped to form a connection between Ifukube's uniquely brilliant style and the aesthetics of modern blockbusters.
For the remaining characters and story arcs
I composed all new themes. As an homage to his biology
Ghidorah's Theme is a prayer to the number three
built from three-note groups structured into larger three-note phrases. The brassy Monarch Theme gives the film a heroic and muscular sense of modernity. The Family Theme
with its gentle piano melody and sul tasto string orchestra foundation
supports the emotional core of the story. The Ancient Theme
which opens the film
is meant to sound primitive and mysterious
an other-worldly echo from a long-lost epoch when these titans ruled the Earth.
For the choir
I wrote a unique text that was translated into Babylonian
one of the most ancient languages that scholars can reconstruct. This text is sung
in order
throughout the film
acting as a 'Greek chorus'.
A Tribute to the Ancient Ones
Oh
Ancient Ones
Those who first walked the Earth
With mighty steps
That shook mountains
And reduced cities of the unrepentant
To ash and stone
We make this offering unto you
Of obedience
and gratitude.
With our bowed bodies
We clear a path at your feet
I also penned lyrics
sung in Babylonian
for a particularly moving scene:
Goodbye Old Friend
Goodbye Old Friend
Your peaceful breath slows
Your eyes gaze upon your world
I offer to you
My strength
Goodbye Old Friend
My hand reaches forth
Striving for divinity
I offer to you
My love
Goodbye Old Friend
At the steps of your kingdom
We become one
I offer to you
My life
Arguably
the most important lyric in the film is "Go
Go
Godzilla!" From the instant I was hired
I knew that I wanted to find a way to incorporate my favorite Blue Öyster Cult song
"Godzilla"
into the film. I collaborated with vocalist Serj Tankian
guitarist Brendon Small and the rest of his Dethklok rhythm section
to create my own version of Buck Dharma's beloved prog-rock classic. This track is perhaps the most audacious piece of music I have ever produced
jammed to the breaking point with orchestra
choir
taiko chanting
taiko drumming
heavy metal rhythm section
Gene Hoglan's blistering double kick drums
and Serj's distinct vocals. It is complete musical madness!
After two years of planning
writing
recording
and mixing
finally all the soaring voices of this 'Monster Opera' can be heard
both in the film and collected here for this soundtrack album. I am thrilled to witness the coronation of Godzilla: King of the Monsters.
Tracklisting:
1. Godzilla (feat. Serj Tankian)
2. Godzilla Main Title
3. Memories of San Francisco
4. The Larva
5. Welcome to Monarch
6. Outpost 32
7. Ice Breaker
8. Rise of Ghidorah
9. Old Rivals
10. The First Gods
11. Rodan
12. A Mass Awakening
13. The One Who is Many
14. Queen of the Monsters
15. For Andrew
16. Stealing the Orca
17. The Hollow Earth
18. The Key to Coexistence
19. Goodbye Old Friend
20. Rebirth
21. Fog Over Fenway
22. Battle in Boston
23. Redemption
24. King of the Monsters
25. Ghidorah Theme
26. Mothra's Song
MARKETING SYNOPSIS
"Godzilla: King of the Monsters
" is an epic action adventure that pits Godzilla against some of the most popular monsters in pop culture history. Emmy Award winning composer Bear McCreary ("The Walking Dead
" "Outlander") has crafted the music for the film
collected onto this 26-track soundtrack; comprised of his new compositions
an inspired incorporation of legendary Godzilla and Mothra themes
and his arrangement of a cover of the classic track "Godzilla" which features Serj Tankian on vocals
guitarist Brendon Small
and his Dethklok rhythm section.
The new story sees the mighty Godzilla colliding with Mothra
Rodan
and his ultimate nemesis
the three-headed King Ghidorah. When these ancient super-species—thought to be mere myths—rise again
they all vie for supremacy
leaving humanity's very existence hanging in the balance.