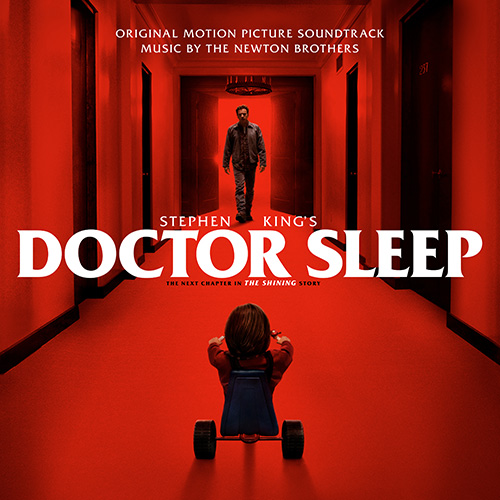 Stephen King's Doctor Sleep (Original Motion Picture Soundtrack)
Release Date: 01/11/2019
STREAM / BUY
1 Dies Irae / Violet (Incorporating The Shining Main Title) - The Newton Brothers
2 237 - The Newton Brothers
3 Please Talk Please - The Newton Brothers
4 The Shining - The Newton Brothers
5 Lockbox - The Newton Brothers
6 Rattlesnake - The Newton Brothers
7 Spoons - The Newton Brothers
8 The Hat
The Snake & Dan - The Newton Brothers
9 Turning - The Newton Brothers
10 Steam - The Newton Brothers
11 Redrum - The Newton Brothers
12 The Looker - The Newton Brothers
13 Astral Projection - The Newton Brothers
14 Who's Tony? - The Newton Brothers
15 Chimes & Outside Voices - The Newton Brothers
16 Rose Traveling - The Newton Brothers
17 Grandpa Flick - The Newton Brothers
18 That Which Was Forgotten - The Newton Brothers
19 The True Knot - The Newton Brothers
20 Vertriloquism - The Newton Brothers
21 Going West - The Newton Brothers
22 The Overlook - The Newton Brothers
23 Bloody Elevators - The Newton Brothers
24 Enough! - The Newton Brothers
25 Ventus - The Newton Brothers
26 The Hedge Maze Par I - The Newton Brothers
27 The Hedge Maze Par II - The Newton Brothers
28 Old Ghosts - The Newton Brothers
29 We Go On - The Newton Brothers
Doctor Sleep Soundtrack Credits
Music by THE NEWTON BROTHERS 
Soundtrack Album Produced by THE NEWTON BROTHERS 
Executives in Charge of Music for Warner Bros. Pictures: PAUL BROUCEK and DARREN HIGMAN
Executive in Charge of WaterTower Music: JASON LINN 
 LEGAL LINE: 
(P) 2019 This compilation WaterTower Music as licensee for Warner Bros. Entertainment Inc.
Motion Picture Artwork © 2019 Warner Bros. Entertainment Inc.
Motion Picture Photography © 2019 Warner Bros. Entertainment Inc.
All rights reserved.
Tracklisting
1. Dies Irae / Violet (Incorporating The Shining Main Title)
2. 237
3. Mrs. Massey
4. Please Talk Please
5. The Shining
6. Lockbox
7. Rattlesnake
8. Spoons
9. The Hat
The Snake & Dan
10. Turning
11. Gaucher's Disease
12. Doctor Sleep
13. #19
14. Steam
15. Redrum
16. The Looker
17. Astral Projection
18. Who's Tony?
19. Chimes & Outside Voices
20. Rose Traveling
21. Grampa Flick
22. The Things That Lived There
23. That Which Was Forgotten
24. The True Knot
25. Ventriloquism
26. Radio Waves
27. Going West
28. The Overlook
29. You Seem Put Upon
30. Bloody Elevators
31. Enough!
32. Ventus
33. The Hedge Maze Part I
34. The Hedge Maze Part II
35. Old Ghosts
36. We Go On
Score Produced by THE NEWTON BROTHERS
Soundtrack Mixed by JONATHAN WALES
Music and Soundtrack Editor: SNACKY
Score Mixed by MATT WARD
Score Editor: MARY WEBSTER
Hurdy Grandé: PAUL DRESHER
Hurdy Grandé Recordist: JAY CLOIDT
Wind Harp Recordist: MAX HIRTENSTEIN
Additional Synth Programming: JAMES BURKHOLDER and S. PEACE NISTADES
Orchestrated and Conducted by MARK GRAHAM
Music Contractor: GINA ZIMMITTI
Assistant Music Contractor: WHITNEY MARTIN
Score Recorded at RALEIGH STUDIOS
T.B.R.
CAPITOL RECORDS
EASTWOOD SCORING STAGE
SOUND CITY
THE DEBNEY BUILDING
Choir & Vocalist Contractor: EDIE LEHMANN BODDICKER
Album Mastered by PATRICIA SULLIVAN at Bernie Grundman Mastering
Soundtrack Album Produced by THE NEWTON BROTHERS 
Executives in Charge of Music for Warner Bros. Pictures: PAUL BROUCEK and DARREN HIGMAN
Executive in Charge of WaterTower Music: JASON LINN 
Music Business Affairs Executives: RAY GONZALEZ and ARI TAITZ
Art Direction: SANDEEP SRIRAM 
Soundtrack Coordinator: KARI MIAZEK 
Score Published by: WARNER-HOLLYWOOD MUSIC
LLC (SESAC)
"Dies Irae / Violet (Incorporating The Shining Main Title)
"
"Please Talk Please" and "The Overlook"
contain an interpolation of
"Dies Irae (Main Title from The Shining)"
Written By Wendy Carlos and Rachel Elkind
Published by Warner-Barham Music LLC
administered by Songs Of Universal
Inc. (BMI)
Thanks to:
Andy and Taylor would like to thank: Mike Flanagan
Trevor Macy
Stephen King
Stanley Kubrick
The Warner Bros. Team
Courtenay Valenti
Kevin McCormick
Jon Berg
Paul Broucek
Darren Higman
Kari Miazek
Jason Linn
Sandeep Sriram
Brett "Snacky" Pierce
Johnathan Wales
Trevor Gates
Nancy Kirhoffer
David Townsend
Brian Smith
John Scherer
Melinda Nishioka
Alex Magistro
Justin Omori
Sal Valone
the entire orchestra and all players
Mark Graham
Joann Kane
Randy Gerston
Benjamin Charney
James Burkholder
S. Peace Nistades
Michael Chaves
Randy Cooke
Matt Chamberlain
George Ramirez
The Eastwood Scoring team: Jamie Olvera
Ryan Robinson
Richard Wheeler Jr.
Tom Hardisty
Greg Dennen
Julie Jones
Monica Gil Rodriguez
Holley Rose Stewart
Mike Graves
Sebastian Gil
Sandra & Padro
Lisa Sigell
John
Cindy
Geoff
Annie
Jake
Aimee
Cruz
Madeleine
Liam
Santos
Mike
Mary
Bridget
Tim
Maria
Dennis
Debbie
Kellie
Katelyn
Kacie John
Todd
Mehtlan's
John Riddle
Robert Baek
John & Lola Debney
Stephanie Pereida & Natalie Stowell.
WaterTower Music Thanks: 
Peter Axelrad
Maria Belli
Rocco Carrozza
Vincenzo De La Rosa
 Kerrylyn Genetive
Joe Kara
Kevin Kertes
Katie Lambert
Genevieve Morris
Amanda Stimac
Robert Zick 
THE HOLLYWOOD STUDIO SYMPHONY
VIOLINS
Charlie Bisharat – CM
Alyssa Park – P2
Bruce Dukov – P2
Eun-Mee Ahn
Armen Anassian
Jackie Brand
Andrew Bulbrook
Paul Cartwright
Daphne Chen
Jessica Guideri
Tammy Hatwan
Luanne Homzy
Ben Jacobson
Maia Jasper
Marisa Kuney
Ana Landauer
Songa Lee
Natalie Leggett
Phil Levy
Lucia Micarelli
Camille Miller
Helen Nightengale
Grace Oh
Joel Pargman
Sara Parkins
Radu Pieptea
Mark Robertson
Katie Sloan
Marisa Sorajja
Tereza Stanislav
Jenny Takamatsu
Ashoka Thiagarajan
Sarah Thornblade
Ina Veli
Josefina Vergara
Leah Zeger
VIOLAS
Rob Brophy – 1st
Caroline Buckman
Meredith Crawford
Zach Dellinger
Andrew Duckles
Alma Fernandez
Shawn Mann
Luke Maurer
Jonathan Moerschel
Aaron Oltman
Erik Rynearson
Dave Walther
CELLI
Tim Loo – 1st
Eric Byers
Giovanna Clayton
Ross Gasworth
Trevor Handy
Julie Jung
Dennis Karmazyn
Mike Kaufman
Armen Ksajikian
Vanessa Freebairn Smith
Cecilia Tsan
Charlie Tyler
BASSES
Mike Valerio – 1st
Drew Dembowski
Thomas Harte
Oscar Hidalgo
Bill "B.J." Johnson
Chris Kollgaard
Ed Meares
Geoff Osika
Dave Parmeter
Ian Walker
FLUTES
Heather Clark – 1st
Johanna Borenstein
Jenni Olson
Ben Smolen
OBOE
Lara Wickes
CLARINETS
Stuart Clark – 1st
Don Foster
Dan Higgins
Joshua Ranz
BASSOONS
Rose Corrigan – 1st
Damian Montano
Ken Munday
Anthony Parnther
FRENCH HORNS
Dylan Hart – 1st
Mark Adams
Laura Brenes
Allen Fogle
Dan Kelley
Teag Reaves
TROMBONES
Alex Iles – 1st
Steve Holtman
Phil Keen
Bill Reichenbach
TUBAS
P. Blake Cooper
Doug Tornquist
PERCUSSION
Brian Kilgore – 1st
Matt Chamberlain
Michael Chavez
Randy Cooke
Pete Korpela
TIMPANI
Wade Culbreath
HARP
Cristina Montes Mateo
PIANO/CELESTE
Robert Thies
HURDY GRANDE
Paul Dresher
CHOIR
SOPRANOS
Suzanne Waters
Anna Schubert
Diane Freiman-Reynolds
Allie Feder
Elissa Johnston
Elyse Willis
ALTOS
Baraka May Williams
Angie Jarée
Edie Lehmann Boddicker
TENORS
Michael Lichtenauer
Greg Whipple
BARITONES
Tim Davis
Abdiel Gonzalez
BASS
Reid Bruton