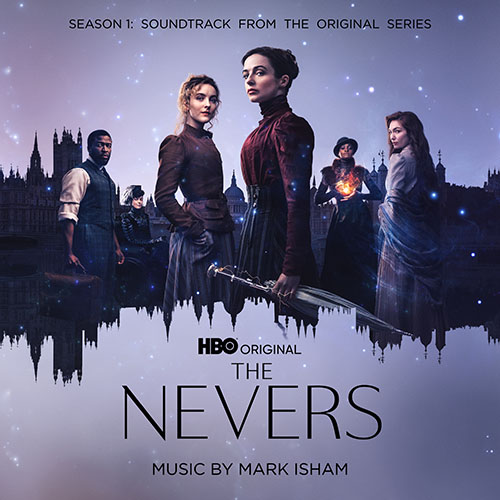 The Nevers: Season 1 (Soundtrack from the HBO® Original Series)
Release Date: 16/05/2021
STREAM / BUY
The Nevers – S1 – Sdtk Credits
Music by Mark Isham
Legal Line:
(P) 2021 This compilation WaterTower Music as licensee for Home Box Office
Inc.
© 2021 The Nevers
Artwork and Photographs © 2021 Home Box Office
Inc. All Rights Reserved. HBO and related trademarks are the property of Home Box Office
Inc.
Published by L-T Music Publishing (BMI)
Tracklisting:
1. August 3rd
1896
2. Rescue
3. Mrs. True
4. We Have Time
5. The Event
6. The Mission Is to Amuse
7. Pushed Her Away
8. The Chamber
9. Song of the Touched (feat. Eleanor Tomlinson)
10. Gassed
11. Spy Revealed
12. You'll Tell Me Everything
13. The Meaning of the Song
14. Preparations
15. Noose Plural
16. Aftermath
17. Please Hope
18. Hope Lost
19. Becoming Amalia
20. Aftermath Arising
21. The Nevers
Music by MARK ISHAM
Additional Music MICHAEL D. SIMON and AUSTIN FRAY
Score Coordinator: ALLISON CANTOR
Orchestrator: BRAD DECHTER
Additional Orchestrations: ANDREW KINNEY
Orchestration Assistant: STEVE PERRETT
Music Preparation Lead: ALLISON CANTOR
Music Preparation Team: NICO GUTIERREZ
JOHN HOUSTON
AARON JORGENSEN
RORY MAZZELA
JOSHUA RUTKOWSKI
MELISSA ST. THOMAS
Violin Solos: CHARLIE BISHARAT
Cello Solos: ANDREW SHULMAN
Orchestra: INSPIRED SYMPHONY ORCHESTRA
Conductor: PÉTER ILLÉNYI
DÁNIEL DINYÉS
Orchestral Leader: BALÁZS REVICZKY
International Relations Manager: BÁLINT CSONKA
Artistic Director: ÁRON SEBESTYÉN
Orchestra Recorded at PANNONIA SOUND STUDIOS
Budapest
Recording Engineer: GYÖRGY MOHAI
TAMÁS DRAGON
Recording Assistant: BENCE BOBÁK
Assistant to Mark Isham: AARON JORGENSEN
Pre-Record Engineer: LUCAS STARBUCK
Score Mixer: JASON LAROCCA
Additional Score Mixers: JIM HILL
MICK ROBY
PHIL MCGOWAN
Score Mixing Assistant: THOR FIENBERG
Mixed at LA-ROCC-A-FELLA CENTER
Music Editor: CLINT BENNETT
Album Mastered by: PATRICIA SULLIVAN at Bernie Grundman Mastering
"Mary's Song (feat. Eleanor Tomlinson)"
Written by Amie Doherty and Joss Whedon
Published by
Performed by Eleanor Tomlinson
Album Produced by MARK ISHAM
Executive in Charge of WaterTower Music: JASON LINN 
Art Direction and Production for WaterTower Music: SANDEEP SRIRAM
Music Business Affairs Executive: ARI TAITZ 
Mark Isham would like to thank:
Greg Spence
Lisa Lassek
Ilene Landress
Danny Kaminsky
Evyen Klean and Janet Lopez.
WaterTower Music Thanks: 
Peter Axelrad
 Paul Broucek
 Rocco Carrozza
 Vincenzo De La Rosa
Joe Kara
Katie Lambert
Genevieve Morris
Amanda Stimac
John F.X. Walsh
Violin Solos: CHARLIE BISHARAT
Cello Solos: ANDREW SHULMAN
Orchestra: INSPIRED SYMPHONY ORCHESTRA
Conductor: PÉTER ILLÉNYI
DÁNIEL DINYÉS
Orchestral Leader: BALÁZS REVICZKY