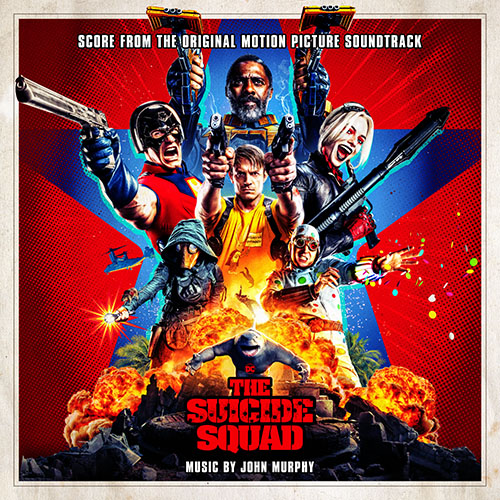 The Suicide Squad (Score from the Original Motion Picture Soundtrack)
Release Date: 06/08/2021
STREAM / BUY
1 So This Is the Famous Suicide Squad - John Murphy
2 Approaching the Beach - John Murphy
3 Mayhem on the Beach - John Murphy
4 Waller's Deal - Meet the Team - John Murphy
5 Harley Gets the Javelin - John Murphy
6 Approaching the Guerrilla Camp - John Murphy
7 Project Starfish - John Murphy
8 Red Flag - John Murphy
9 Interdimensional Virus - John Murphy
10 Ratcatcher's Story - John Murphy
11 Harley Sings - John Murphy
12 Breaking into Jotunheim - John Murphy
13 Dirty Little Secrets - John Murphy
14 Peacemaker… What a Joke - John Murphy
15 King Shark and the Clyrax (feat. Jessica Rotter) - John Murphy
16 Bombs Go Off! - John Murphy
17 Suicide Squad vs. Starro the Conqueror - John Murphy
18 The Star-Crossed Wake Up - John Murphy
19 Panic on the Streets - John Murphy
20 The Squad Turn Back - John Murphy
21 The Squad Fight Back - John Murphy
22 Ratism - John Murphy
23 Bloodsport's Deal - John Murphy
The Suicide Squad (Score from the Original Motion Picture Soundtrack)
Music by JOHN MURPHY
LEGAL LINE:
(P) 2021 This compilation WaterTower Music as licensee for Warner Bros. Entertainment Inc.
Motion Picture Artwork © 2021 Warner Bros. Entertainment Inc.
Motion Picture Photography © 2021 Warner Bros. Entertainment Inc.
All rights reserved.
Published by: Warner-Barham Music LLC (BMI)
TRACKLIST:
So This is the Famous Suicide Squad
Approaching the Beach
Mayhem on the Beach
Waller's Deal – Meet the Team
Harley Gets the Javelin
Approaching the Guerrilla Camp
Project Starfish
Red Flag
Interdimensional Virus
Ratcatcher's Story
Harley Sings
Breaking Into Jotunheim
Dirty Little Secrets
Peacemaker… What a Joke
King Shark and the Clyrax
Bombs Go Off!
Suicide Squad vs. Starro the Conqueror
The Star-crossed Wake Up
Panic on the Streets
The Squad Turn Back
The Squad Fight Back
Ratism
Bloodsport's Deal
CREDITS:
Supervising Music Editor: JASON RUDER
Music Editor: LENA GLIKSON-NEZHELSKAYA
Score Produced by: JOHN MURPHY & TYLER BARTON
Score Recorded by : GUSTAVO BORNER
JUSTIN MOSHKEVICH
TYLER BARTON
Score Mixed by: GUSTAVO BORNER
JUSTIN MOSHKEVICH
TYLER BARTON
Score Edited by: DEREK SNYDER
NOAH HUBBELL
Pro Tools Operator: JUSTIN MOSHKEVICH
Additional Score Engineering: BRENT ARROWOOD
Score Programmers: TYLER BARTON
DAVID DEUTSCH
MATTHEW BLOCHA
MOLLY MURPHY
Supervising Orchestrator: STEPHEN COLEMAN
Orchestrators: ANDREW KINNEY
MICHAEL LLOYD
EDWARD TRYBEK
HENRI WILKINSON
JONATHAN BEARD
VINCENT OPPIDO
DAVID DEUTSCH
Music Preparation by: BOOKER WHITE
NICHOLAS CAZARES
CHRISTOPHER ANDERSON-BAZZOLI
Score Conducted by: EDWARD TRYBEK
Score Coordinators: PETER ROTTER
JASPER RANDALL
Choir: LONDON VOICES
Choir Contractors: LUCY WHALLEY and JENNY NENDICK for Isobel Griffiths Ltd. 
Choirmasters: TERRY EDWARDS and BEN PARRY
Choir Conductor: BEN PARRY
Score Recorded at: WARNER BROS. EASTWOOD SCORING STAGE
20th CENTURY FOX NEWMAN STAGE
AIR STUDIOS LYNDHURST HALL
IGLOO STUDIOS
TAPED NOISE STUDIOS
Score Mixed at: IGLOO STUDIOS
BURBANK
Album Mastered by: JOE LaPORTA @ Sterling Sound
Album Produced by JOHN MURPHY & TYLER BARTON
Executives in Charge of Music for Warner Bros. Pictures: DARREN HIGMAN & NIKI SHERROD
Executive in Charge of WaterTower Music: JASON LINN
Art Direction and Production for WaterTower Music: SANDEEP SRIRAM
Music Business Affairs Executives: RAY GONZALEZ & ARI TAITZ
Soundtrack Coordinators for Warner Bros. Pictures: LINDA CHRISTIE & KARI MIAZEK
John would like to thank…
Tyler Barton
Paul Broucek
Darren Higman
Niki Sherrod
Catherine Grieves
Gustavo Borner
Justin Moshkevich
Stephen Coleman
Edward Trybek
Matthew Blocha
David Deutsch
Fred Raskin
Josh Levinson
Chris Tonick
Brit DeLillo
Kari Miazek
Linda Christie
Jason Ruder
Lena Glikson-Nezhelskaya
Peter Rotter
Jasper Randall
Ben Parry
Isobel Griffiths
Karen Elliot
Derek Snyder
Noah Hubbell
Brent Arrowood
Booker White
Nicholas Cazares
Christopher Anderson-Bazzoli
Vincent Oppido
Jason Linn
Sandeep Sriram
Joe LaPorta
Mark Glaser
Jessica Rotter
Victor Indrizzo
Brian Kilgore
Andrew Duckles
Chris Bleth
Craig Eastman
London Voices and all the amazing musicians who brought this to life.
And to Charlotte Murphy
Jude Murphy and Molly Murphy
thank you for everything.
And special thanks to…
James Gunn
Peter Safran
Charles Roven and Simon Hatt
for all your support and inspiration.
Thank You!
John.
Thanks To:
Peter Axelrad
Paul Broucek
Maria Belli
Rocco Carrozza
Vincenzo De La Rosa
Kerrylyn Genetive
Joe Kara
Katie Lambert
 Genevieve Morris
Amanda Stimac
John F.X. Walsh
FEATURED MUSICIANS
JOHN MURPHY: Guitars
Bass
Synths
Piano
Percussion
GuitarViol
TYLER BARTON: Percussion
VICTOR INDRIZZO: Drums
BRIAN KILGORE: Metal Percussion
CHRIS BLETH: Oboe
Whistle
ANDREW DUCKLES: Viola
CRAIG EASTMAN: Rabeca
MARCIA DICKSTEIN: Harp
JESSICA ROTTER: Vocals
The Hollywood Studio Symphony (AFM Musicians)
VIOLIN
Bruce Dukov — CM
Tereza Stanislav — P2
Akiko Tarumoto
Alyssa Park
Amy Hershberger
Andrew Bulbrook
Benjamin Jacobson
Benjamin Powell
Caroline Campbell
Charlie Bisharat
Chung Mei Chang
Darius Campo
Dennis Kim
Eun-Mee Ahn
Grace Oh
Heather Powell
Helen Nightengale
Irina Voloshina
Jessica Guideri
Joel Pargman
Josefina Vergara
Julie Rogers
Kevin Connolly
Lorand Lokuszta
Lorenz Gamma
Luanne Homzy
Lucia Micarelli
Maia Jasper-White
Max Karmazyn
Maya Magub
Minyoung Chang
Molly Goldbaum
Natalie Leggett
Neil Samples
Paul Manaster
Phillip Levy
Roberto Cani
Sandra Cameron
Sara Parkins
Songa Lee
Stephanie Matthews
Tamara Hatwan
Wynton Grant
VIOLIN SOLOIST
Craig Eastman
VIOLA
Shawn Mann — 1st
Alma Fernandez
Andrew Duckles
Ben Ullery
Carolyn Riley
David Walther
Zach Dellinger
Luke Maurer
Meredith Crawford
Michael Larco
Michael Nowak
Michael Whitson
Phillip Triggs
Robert Brophy
CELLO
Steve Erdody — 1st
Armen Ksajikian
Caleb Jones
Dennis Karmazyn
Eric Byers
Helen Altenbach
Jacob Braun
Michael Kaufman
Paula Hochhalter
Robert Demaine
Ross Gasworth
Timothy Loo
Vanessa Freebairn-Smith
BASS
Nico Abondolo — 1st
Christian Kollgaard
David Moore
Edward Meares
Geoffrey Osika
Michael Valerio
Stephen Dress
Thomas Harte
FLUTE
Heather Clark — 1st
Jenni Olson
Amy Tatum
Chris Bleth
Elise Henry
Julie Burkert
OBOE
Lara Wickes — 1st
Claire Brazeau
Jessica Pearlman
Jonathan D. Davis
CLARINET
Stuart Clark — 1st
Chris Stoutenborough
Donald Foster
Joshua Ranz
BASSOON
Rose Corrigan — 1st
Anthony Parnther
Damian Montano
William May
FRENCH HORN
Andrew Bain — 1st
Allen Fogle
Amy M. Sanchez
Amy Rhine
Danielle Ondarza
Dylan Hart
Katelyn Faraudo
Kaylet Torrez
Laura Brenes
Mike McCoy
Teag Reaves
TRUMPET
Tom Hooten — 1st
Barry Perkins
Bryce Schmidt
Jon Lewis
Robert Schaer
Ryan Darke
TROMBONE
Alex Iles — 1st
Alan Kaplan
Andrew Martin
Craig Gosnell
Phillip Keen
Steven Holtman
Steven Suminski
Steven Trapani
TUBA
Doug Tornquist — 1st
Blake Cooper
Gabriel Sears
HARP
Marcia Dickstein
DRUM KIT
Victor Indrizzo
PERCUSSION
Wade Culbreath — 1st
Brian Kilgore
Donald Williams
Pete Korpela
Ted Atkatz
CHOIR (MU – LONDON VOICES)
SOLOIST:
Joanna Forbes L'Estrange 
SOPRANOS:
Joanna Forbes L'Estrange
Alison Ponsford-Hill
Daisy Walford
Dani May
Emilia Morton
Grace Davidson
Helen Ashby
Hilary Cronin
Imogen Parry
Kate Ashby
Katy Hill
Sara Davey
Sarah Eyden
ALTOS:
Christina Gill
Elizabeth Swain
Jo Marshall
Joanna Goldsmith-Eteson
Louise Marshall
Sumudu Jayatilaka
TENORS:
Andrew Busher
Benedict Hymas
Guy Cutting
Philippe Durrant
Steve Trowell
Will Wright
BASSES:
George Cook
John Evanson
Kevin Fox
Nicholas Garrett
Robert Davies
Tim Murphy